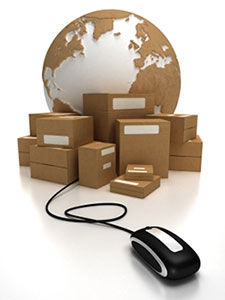 E-shop – the right choice for businesses, who want to grow your business, expand the impact of the market, predict future global. Web-design studio "WEBSITE" specializes in creating online stores, aimed at increasing sales customer.
Online shopping is one of the priorities of our activity, because e-commerce has become very strong part of our present and actively developed in all major cities of Ukraine. Services Internet Store – This modern shopping channel. With this tool, you can sell your products or services to a huge audience, using LAN. Now Shop provides a modern content management system (CMS), that enable self-updating and making new products in your store, without requiring the user qualification. We are constantly analyzing all the trends of modern Ukrainian and foreign online stores, watch the latest tools and techniques to promote, implement and test technology for usability, confident that our customers reach the set business goals and occupied leading positions in its own business segment. Our specialists have extensive experience in developing online stores: from small sites to directories technically complex and large online stores. We have experience integrating the store with 1C and other information systems, settings for the payment systems and the automated delivery systems. Site Integration with payment systems can integrate online shop in different payment systems: processing system of plastic cards, electronic payment systems or create account to pay (Sberbank, plastic cards, Assist, Yandex-money, WebMoney and other).
To order Online shop with us, Need:
[accordion][item title="The first step"]Choose one of the free templates provided design or order a paid design for your online store[/item]
[item title="The second step"]Tell a free domain name, you would like to register or provide us with already registered domain before in another company. Note, if you order a domain with us, реєстрація домену буде проводиться на ваші паспортні дані.[/item]
[item title="The third step"]Before we begin to create your site or online store, You need to be prepaid 20% the total amount of your order by bank, WebMoney or Yandex money. Ця передоплата буде гарантією ваших серйозних намірів.[/item]
[item title="The fourth step"]Once we receive your prepayment, we proceed to create and develop your site the next day, за умови якщо цей день не вихідний.[/item]
[item title="П'ятий крок"]Upon completion of all work on your site or online store. You pay the remaining amount of money and get access to the control panel on your site. Also you get video instruction on filling, editing information and the product contained on the site and online store. [/item][/accordion]
[

alert type=

"

danger

"

display=

"

block

"]Please note, that cost turnkey online store from 900$[/

alert

]
What is included in the cost of creating online store?
In Qiu bag vzhe include:
To 10 categories for shop and site information.
To 500 Product pages with photos and descriptions.
Kaushik product s calculator.
Old / New tsіna. (Ability to cross the old price and establish new.
Function "Product Rating".
Panel site completely in Russian or Ukrainian.
Function "Product Reviews"
Registration for 10 mailboxes in the form name @ vashsayt
Advice and support 1 month free.
Video training site content goods and the necessary information, creating categories, edit contacts.
Hosted by termіnom 12 months.
Domain in zonі. com.ua in one year free!
Stages of e-commerce
Online shop begins with preparation of technical specification (TS). The TS for online store detailing the functional and technical requirements, vimogi to produktivnostі, Security, System Administration, Integration with 1C system or other storage systems, Calendar plan robіt. After compiling and agree TS, the programming phase starts online shop. At this stage of the work carried out programmers, that create a functional store, Conductive SYSTEM SETUP upravlіnnya, submit test data, nalagodzhuyut code.
The next in the list – stage of creation design of Internet shop, processing of internal pages, My Cart, general catalog and other website templates.
After the layout of the site is the Internet store hosting. Web-design studio "WEBSITE" hosting to their customers at competitive rates.
The last stage – delivery of the project and staff training with your orders. After working on the shop, under a separate contract stage begins promoting e-commerce search engine and its subsequent maintenance.
[alert type="success" display="block"]How to order design online store?
To apply for the development of an online store, you can in any convenient way: make a phone call to Києві (097) 966-18-03 or fill out the feedback form, Ask Meal, allows you to our experts, who will answer all questions about creating online stores, design and subsequent maintenance. Order manufacturing online store at Києві
[/alert]
The main and almost the main purpose of online shopping is profitable.