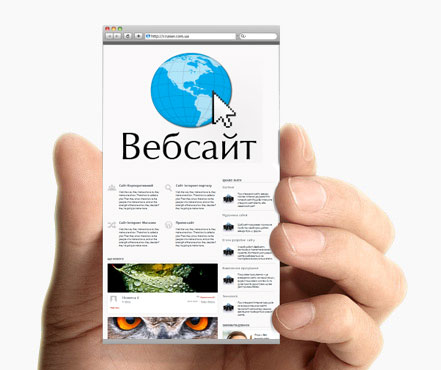 Site-business card – This is a complete online resource, as a rule, consists of several (5-10) Page, containing basic information about the company, its activities, goods or services offered, characteristics and methods of feedback. Properly designed online business card is a business card, effective advertising, non-stop office, face of the Internet.
Creating a website effectively express themselves millions of Internet users. This compact, simple, concise and at the same time informative site tells potential customers about the company, pro rate the loads / services, shares, Ways of cooperation. On the site, anyone can learn, how to find us, as contact with her and even leave application.
The most popular sections of website:
About
Goods and services
Price list (It seems the loads / services)
News
Contacts (feedback)
Although, that site-business card – is the easiest site without nested sections, its development is very effective solution for entrepreneurs, professionals in the service sector, and large companies.
Advantages of website:
relatively low costs of creating a website and its support;
Website developed in a short time;
on saytі presented as specific, concise information, is easy to find online with a simple menu and ease of navigation;
correctly, quality and beautifully executed site forms the company's image, credible potential buyers;
site-vіzitka – great start for a new business;
create a website – effective way to try out a new trend in the already formed business. Analysis of the behavior of buyers online help determine the most successful solutions for the further development of a business.
Key Features of developed sites:
Avtorsky design website qualitatively distinguish your site from the gray mass of millions of websites.
Conveniently panel administruvannya site will allow even the most inexperienced web user to edit all information sections of the site.
Basic SEO-optimization to find a site in the search engines (Google, Yandex).
Warranty Service Web site.
Deadline – from 10working days.
Cost website:
Site Design: individual
Site Pages: to 10 pages.
Period of implementation: to 2 weeks
The price of the site: from 300 u.o.
* The cost of a site indicated the approximate, can vary from many factors. To clarify the final cost contact our office. Price includes VAT 20%.