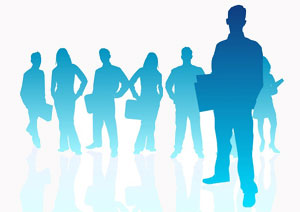 The corporate site – site, that has powerful functionality and an extended structure with a large number of sections and subsections, containing detailed information about the company and its services (or commodities). This is the most advantageous option for medium and large businesses, for large enterprises with multiple activities, affiliates, units. This package is a powerful tool for doing business online. Package "Corporate web" allows you to completely manage your online resource – change content, add sections, Page, gnuchko upravlyati website templates. Professional website design includes in 3 different options.
The concept of professional design includes not only visual design, well thought-out structure and information, its location and ease of finding.
Confidence, image and reliability – are the main advantages of the corporate website.
Package "Corporate web" combines thoughtful design, maximum functionality, search engine optimization, expanded opportunities for efficient business on the Internet. Corporate offer to create a serious and effective interenet-representation, which clock is available for your clients, employees and business partners.
Design your site will be designed individually, based on your needs, taking into account the latest trends and technologies in the industry creating websites and specifics of your business.
Key Features of developed sites:
Avtorsky design Site qualitatively distinguish your site from the gray mass of millions of websites.
Conveniently panel administruvannya site will allow even the most inexperienced web user to edit all information sections of the site.
Basic SEO-optimization website to find a website in search engines (Google, Yandex).
Warranty Service Web site.
The package "Corporate" enter:
Preparation of contract and specification for the development of the site;
Developing the original design of the site (two design concepts and two revision selected design options);
Nesting Site (кросбраузерність, without pomilok, considering SEO);
Installing the system upravlіnnya site. With it you will be able to create sections and pages on the website, add and edit information;
Filling turnkey website information. If the information for the site was provided by the customer before beginning the design, We'll lay out her site (not more than 30 pages of text and 30 images). Total number of pages on the site unlimited;
Register any available domain per year;
Hosting site on rіk. Allocate your site to 700 Mb on our servers;
To 50 Mailbox type vashe_im'ya @ your_domain;
Creating favicon.ico icon This icon instead of the standard displayed in the address bar and bookmark / Go to is browsers;
The system user statistics (bigmir.net / Yandex / Google Analytics);
Optimizing code for all search engines;
Submit your site to search engines;
Development of flash-banner selected customer size.
The most popular sections of the corporate website:
About. Section, containing information about the company, its history of. Includes nested page: "Jobs", "Our employees', "Branches" and pr.
News. Latest news allow visitors to be aware of all your new, and for new visitors regularly updated news feed says, that business is growing, site works and can be accessed.
Services. Section can have complex hierarchical structure.
Catalog produktsії. This chapter contains nested units. Page of each product may contain gallery, detailed description, specifications of products.
Questions and answers. Section lets you keep in touch with site visitors, respond to questions on.
Contacts. Section maintains operational feedback from customers in any part of the world. Page may contain a form to send a message from the site.
Registration. Section appointed to collect client contacts and providing additional opportunities to registered users, for example – additional sections displaying product catalog, providing price lists etc.
As a rule, corporate sites have 2 language versions – Russian, English.
In any case,, structure and functionality of the corporate site determined individually with each client.
Benefits of a corporate site:
corporate website is an effective tool for disseminating information about the company;
opportunity to attract new customers and partners, increase the loyalty of existing customers;
significant savings on advertising, because the cost of online advertising is much lower, than the cost of advertising in the media.
visitor can directly view the catalog on the company's products, detail to learn about products, see photo gallery, Price List;
prompt feedback to customers worldwide.
Designed by our company every corporate website provides high visibility site, creates a positive image of the company, favorably positioned the company in the eyes of potential and existing customers, and partners.
The corporate site – it is not only the image and reputation of the company, but also increase sales via the Internet.
Deadline – to 4 weeks.
The cost of developing – from 1500 u.o..
The cost depends on customer requirements for functionality, the volume of work on filling the site information and develop plugins.