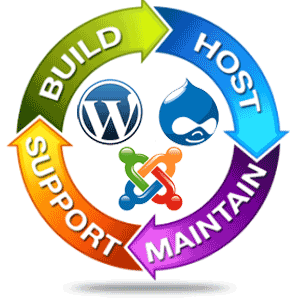 Content Management System or CMS Site – is the core of your Internet resource, his "slider". Through the use of CMS, you get to freely manage information on your site: – Easily change the text; – Upload new pictures and photos; – Create and delete pages and sections; – Post news and events; – Place price lists and other information for download. And all this can be done without special skills or special training. Anyone, once worked in a text editor, easily master work with our system administration.
What are the main advantages of the system management?
Ease – You can perform operations on the site quickly and without special skills. What would you not want to, This is solved in two clicks.
Functionality – The control system enables effectively solve any problems, required from site. It is not tied to specific technologies, that is, it is easy to build as upravlyayemoyu flash-sites, Tak and HTML resources. CMS does not impose restrictions on the functionality of your resource.
Flexibility – Management system to flexibly tunable for each project by using a modular structure. With this you always get the individual was under CMS your site.
High speed – The control system does not perform unnecessary actions, and therefore works quickly. CMS is designed for sites with high traffic sites and to promote, where speed of response is one of the most important parameters.
Data protection – The control system protects your data. If you accidentally delete any page or somehow lose important information, it can be easily restored.
What tasks are CMS?
Allows you to create any number of sections and subsections of any level of nesting;
Automatically builds a menu and a site map based on the structure;
Allows you to easily modify the text on the page;
Gives direct access to editing HTML-code for professionals;
Allows you to manage lists, font styles, by drafting and weighing other options, that provides all the modern editors;
Supports import from MS Word and similar editors;
Automatically optimizes the schedule for posting on the website;
Allows you to edit the META-tags and title page;
Allows you to make the page title to navigate different from its title;
Connect additional modules for different pages.
What are the modules in the system?
[accordion]
[item title="Photo Gallery"]
This tool allows you to quickly post a lot of pictures or photos to your site. As a rule, used for product demonstrations, display portfolio or just for teaching any graphics. Photos can be divided into sections and subsections, and contain any number fotohrafiy.Dostupno few basic options galleries, different size and location thumbnails, and options open (at splivayuchіy ramtsі, Just visit, on a new page, etc.).
Photos in Basic versіyu Sistemi upravlіnnya.
[/item]
[item title="Portfolio"]
The module is an enhanced portfolio gallery, that allows you to host not only the image and caption, but a detailed description of the various fields, for example, deadlines for completion of certain works. In one position in the portfolio can be mounted multiple photos or images.
Portfolio is included in the basic version control system.
[/item]
[item title="Catalog"]
This module is a complete "showcase" Internet-shop, but without the possibility of payment for goods or add it to basket. Each product can be accompanied by any information – from test descriptions and prices to explanations, operating instructions and videos. Typically used for, to show the range of products the manufacturer or order, to showcase products, purchased only by personal contact (for example, furniture sets).
Catalog is available in the basic version of content management system.
[/item]
[item title="Advanced Directory"]
Tool for the demonstration of a large number position, having a clear statistical separation. Contains a set of filters and a convenient search engine. Can be used on sites larger stores and manufacturers, and also used to support large databases, for example, sites with real estate or recruitment agencies.
Advanced catalog available separately and are always modified to suit your site.
[/item]
[item title="Basket orders"]
Shopping for ordering turns any directory on a full online store. You can walk around the site, recruit Items to Cart – then places an order, sending accurate information about yourself and what, Just what he needs your manager at any time of day.
Basket orders are not included in the basic version of CMS.
[/item]
[item title="Зворотній зв'язок або форма замовлення"]
Standard shape, which contains several fields (in the simplest case – "contact" and "appeal", in complex – all for your viborom) and allows you to send mails from your manager. Used for ordering goods or services, and in the form of feedback forms. For example, may be a form of hotel booking.
[/item]
[item title="Gostova book"]
Guest book gives users a resource to ask you any question, and leave any information on the site. Guestbook protected from spam and can be edited with control system.
Comes with a basic version.
[/item]
[item title="Reviews"]
Module, specially designed, allow users to leave feedback about your work or products. Scheme Robots "reviews" so: 1. The user writes a review site (have spam protection). 2. Review flagged for moderation, that it sees no one except you and guide, left it. 3. You claim review and it appears on the site. 4. You can answer the recall.
[/item]
[item title="Comments"]
Any page of your site (for example, or another article) comments can be provided, writing by users. This module allows you to implement them in the same way, used in reviews – Well for abo principle gostovoї books.
Included in the basic version control system.
[/item]
[item title="Users pages"]
You can protect a portion of your pages password, ie let go there only to registered users. For example, you can create a page only for partners of the company – or post other information, for which the need for a special permit.
[/item]
[item title="Newsletter"]
Newsletter Company, Press Release, Information about stocks is often required for business, developing. This module allows you to make convenient mailing list for your customers, and to do so in a way, not to be in the spam lists mail servers.
Module distribution is not included in the basic version control system.
[/item]
[item title="News"]
Convenient and easy system of publication of your company. Automatically formed a complete chronology, and eliminated some fresh news on the home (or any other of your choice) Page.
News module included in the basic version control system.
[/item]
[item title="Articles"]
Easy module for posting articles, which is effectively used for, to place a variety of materials of the same type – from various press releases to organizations section "useful".
Functional posting articles is basic version control system.
[/item]
[item title="Stocks"]
If your company regularly holds any shares (for example, provides a discount on the product range), then the module will share the easiest and most convenient way to inform your website visitors.
You can use the shares in the basic version control system.
[/item]
[item title="Video"]
Video allows you to place on your site many videos. It looks like a gallery, but each thumbnail can "run" played directly on the page or in a separate window.
Video sold separately and is not included in the basic version of CMS.
[/item]
[item title="Payments various systems"]
If you want to automate and make easier for customers ordering process, you can connect the system receive payment through electronic currency, bank cards, and terminals to receive payments. This feature is primarily intended for online shopping.
Connecting through various payment system is not included in the basic version of CMS.
[/item]
[item title="Poll"]
Wondering, as users of your site belonging to a particular issue? Spend poll – and submit their opinion. You ask the question, answers – and visitors can vote.
To conduct the survey can be found in the basic version control system.
[/item]
[item title="Search"]
If your website contains a lot of information, in addition to the usual navigation is recommended to use search. Search allows you to quickly display materials for users, who seek to immediately find what you need, no flipping through all the pages of the resource.
Poshuk Site not included in the basic versіyu CMS.
[/item]
[item title="Site Map"]
Site Map – this page, containing complete "tree" sections and pages. Sitemap convenient for many users, and is a very good factor for promotion in search engines.
Site Map in Basic versіyu CMS.
[/item]
[item title="What versions of existing?"]
Currently both for business sites, and for small sites using Joomla, WordPress or Drupal version with full GUI.
[/item]
[item title="Is it possible modification of third-party developers?"]
So, This system supports both free PHP-insertion, and injection of code in another language. Існує API, could be used to support full capabilities of third-party developers.
[/item]
[item title="What are the system requirements for CMS?"]
To use CMS requires PHP support 5.2 and the base of given MySQL.
[/item]
[/accordion]