Content Management System (CMS)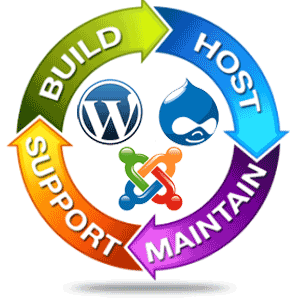 Content Management System or CMS Site – is the core of your Internet resource, his "slider". Through the use of CMS, you get to freely manage information on your site: – Easily change the text; – Upload new pictures and photos; – Create and delete pages and sections; – Post news and events; – Place price lists and other information for download. And all this can be done without special skills or special training. Anyone, once worked in a text editor, easily master work with our system administration.
What are the main advantages of the system management?
Ease – You can perform operations on the site quickly and without special skills. What would you not want to, This is solved in two clicks.
Functionality – The control system enables effectively solve any problems, required from site. It is not tied to specific technologies, that is, it is easy to build as upravlyayemoyu flash-sites, Tak and HTML resources. CMS does not impose restrictions on the functionality of your resource.
Flexibility – Management system to flexibly tunable for each project by using a modular structure. With this you always get the individual was under CMS your site.
High speed – The control system does not perform unnecessary actions, and therefore works quickly. CMS is designed for sites with high traffic sites and to promote, where speed of response is one of the most important parameters.
Data protection – The control system protects your data. If you accidentally delete any page or somehow lose important information, it can be easily restored.
What tasks are CMS?
Allows you to create any number of sections and subsections of any level of nesting;
Automatically builds a menu and a site map based on the structure;
Allows you to easily modify the text on the page;
Gives direct access to editing HTML-code for professionals;
Allows you to manage lists, font styles, by drafting and weighing other options, that provides all the modern editors;
Supports import from MS Word and similar editors;
Automatically optimizes the schedule for posting on the website;
Allows you to edit the META-tags and title page;
Allows you to make the page title to navigate different from its title;
Connect additional modules for different pages.
What are the modules in the system?