Advertising in social networks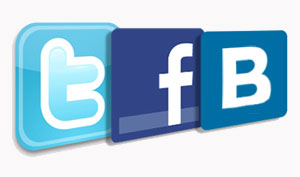 Every web resource is an indicator as an active audience – users, who regularly return to the site and spend there at least one hour per week. These people are the cornerstone, through which is formed as site traffic, and popularity presented in this paper for the brand. However, there is another active audience, rozrahovana than for a specific site, and for the entire web. By analogy means users, conducting Internet at least one hour per week. As an active Internet audience to convert to active audience your site? A few years ago the answer was unequivocal – Search Engine Promotion. Really, in the process of finding information, any user sooner or later come to Google or Yandex and enter the search string the needed phrase. But search promotion applies only to that part of the audience, something that looks. And what about other potential customers?
Відповідно до досліджень за 2011 year, not less then 75% Internet users registered in social networks. This is where users are most active, for example, Average user network "VKontakte" spends her anymore 7 hours per month. The longer the large auditoria, which is difficult to attract conventional methods.
When traditional methods of promotion stop working, to cope vstupaє SMO!
Optimizing for Social Networks (Social Media Optimization) – This site changes so, to motivate users of social networking site and link to quote his materials. The company CASTCOM are unique methodology of citation site on social networks and blogs. We are in this market from the beginning and Skills SMO at the highest level.
No matter how many visitors do not come to your site – this is just a fraction of a percent of the total number of users of social networks. Narodna mudrіst say: "Yakscho mountain yde not before Mohammed, Magomet going to do worse". The idea to go to a Social Media has been implemented in the concept of progress in social networks (Social Media Marketing). The main objective of SMM is the advertising company or brand in the social environment. Existing mechanisms of modern social networks allow you to target users by geographic, social, behavioral traits, as well as the age and interests. The combination of these mechanisms allows us to find within the SMM effective selling and branding solutions
The company specializes in website promotion in social networks Facebook, ВКонтакте, Classmates. First results you can see in a month.
Benefits of Advertising in Social Media:
targeting a specific audience;
low cost campaign;
formation of brand image;
variability and flexibility of the campaign.
Benefits of promoting the company website:
huge market experience SMO and SMM;
highly qualified;
automation of routine processes;
short time – from 30 days;
acceptable to the customer for.
Have advertising in social media and you will learn about the millions!
Social Networks (Vkontakte, Facebook та інші) quickly become familiar service to millions of people around the world. High attendance and active users of social networks to effectively use data services for marketing campaigns, відкриваючи для брендів неймовірні можливості.
Реклама компанії в соціальних мережах (SMM, SMO) – це порівняно нова, але добре зарекомендувала себе можливість залучення потенційних клієнтів.
Що можуть дати соціальні медіа бізнесу?
Поширення бренду і залучення нових клієнтів. Причому зі швидкістю соціальних мереж. Запропонувавши свою сторінку в Facebook своїм 100 друзів, ви точно знаєте, що вони її переглянуть. А якщо сторінка цікава і заслуговує на увагу, то друзі запропонують цю сторінку своїм друзям, друзям друзів і т.д.
Контакт з клієнтами та соціалізація бренду. Ваша сторінка в соціальних медіа стає місцем для діалогу з клієнтами, тут можуть задати питання і залишити відгук. Розвинена сторінка компанії з розгорнутими відповідями на запити клієнтів формує у них позитивні емоції та формує більш лояльне ставлення.
Додаткове джерело трафіку вашого сайту. На ваш сайт починають приходити відвідувачі з соціальних мереж – Facebook, ВКонтакте, Classmates, Twitter.
Збільшення продажів. Розгорнута інформація про компанію в соціальних медіа викликає довіру і стимулює збільшення продажів.
Ми пропонуємо:
Створення та підтримка соціальних акаунтів компаній. Ми готові створити групи в популярних соціальних мережах, знайти вашу цільову аудиторію, запросити її в групу і ненав'язливо рекламувати Ваші товари чи послуги.
Advertising in social networks. Розміщення контекстної реклами в соціальних мережах приверне велику кількість цільових відвідувачів на Ваш сайт. Чіткий таргетинг, низька вартість, лояльне ставлення користувачів – рекламу побачать ті, кому вона цікава.
Соціальний медіа маркетинг (SMM). Ми використовуємо інструменти соціальних медіа, такі як блоги, мікроблоги, чати, форуми, ЖЖ, підкасти і інше для просування сайтів компанії.
Не ігноруйте соціальні медіа – це потужний інструмент просування вашої компанії, який працює не гірше, ніж розкручений сайт. Бронюйте просування в соціальних мережах.